Georgia Supreme Court Spares Insurance Company from a $5.3 Million Bad-Faith Verdict
Last week, the Georgia Supreme Court confirmed that an insurance carrier's duty to settle a claim against its policyholder arises only after an injured claimant presents a "valid offer" to settle within policy limits. In First Acceptance Insurance Company of Georgia v. Hughes,[1] the Court found that, because the letter presented to First Acceptance by the injured parties' counsel was not a time-limited settlement demand, First Acceptance's failure to respond before the injured parties withdrew their offer did not constitute negligence or a bad faith failure to settle the claim within policy limits.
In 2008, First Acceptance's policyholder caused a multi-car crash killing the policyholder and injuring five others, including Julie An and her 2-year-old daughter. The policy had the minimum liability limits of $25,000 per person and $50,000 per accident. In January of 2009, First Acceptance's counsel circulated correspondence to the attorneys for the multiple claimants indicating it was interested in a joint settlement conference to resolve the  injured parties' claims.  On June 2, 2009, counsel for An and her daughter sent First Acceptance two letters – the first responding to First Acceptance's suggestion of a joint settlement conference and expressing his clients' interests in settling their claims within policy limits, and another requesting information about the policy within 30 days of the date of the letter. First Acceptance's counsel did not view the letters as including a time-limited demand.
As a result of a clerical error, both letters were inadvertently filed away with medical records. When First Acceptance did not respond to either letter within 30 days, claimants' counsel sent a letter advising First Acceptance that its offer to settle was rescinded. First Acceptance continued settlement efforts by inviting claimants to a joint settlement conference with the other claimants, and offering to settle their claims for policy limits. Claimants rejected the offers.
After a 2012 trial, a jury found in favor of the claimants and against the policyholder awarding over $5.3 million dollars in damages. The policyholders' estate then sued First Acceptance claiming that First Acceptance's failure to settle the claims within the policy limits led to the excess judgment. The trial court granted summary judgment to First Acceptance only to have the Georgia Court of Appeals reverse the grant of summary judgment on the failure-to-settle claim.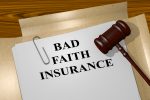 The Georgia Supreme Court then granted the insurer's petition for certiorari. First Acceptance argued that an insurance carrier's duty to settle is not triggered until an injured claimant has made a valid settlement offer. The estate argued that the duty to settle is not dependent on specific language in a letter, rather the duty arises when "an ordinarily prudent insurer, giving its insured's interests equal consideration to its own interest, would settle."
The Georgia Supreme Court agreed with First Acceptance in its unanimous decision, stating that an insurer's duty to settle is not triggered until an injured claimant has made a valid settlement offer. It found that, when considering the two letters sent to First Acceptance on June 2, 2009 as a whole, they did not include a 30-day deadline for acceptance. Instead, the Court viewed the offer to settle for policy limits as an alternative to claimants' participation in the proposed global settlement conference. Without a clear deadline, First Acceptance could not have reasonably known it needed to respond within a certain time or risk that its insured would be subject to a judgment in excess of the policy limits. Thus, the Court held First Acceptance did not act negligently or in bad faith when it failed to settle the claims within policy limits.
Georgia's high court also addressed the estate's argument that First Acceptance knew or should have known that the minor daughter's injuries were the most severe, and therefore, it should have settled her claim first. The Georgia Supreme Court disagreed with this position, finding that there was no precedent requiring that an insurer settle part of multiple claims. Instead, it found that a settlement of multiple claims including the minor's claim was in the insured's best interest as such a settlement would reduce the overall risk of excess exposure.
Ultimately, First Acceptance dodged a $5.3 million dollar bullet with Georgia's highest court concluding that First Acceptance was entitled to summary judgment and reinstating the trial court's ruling. This case serves as an important reminder to be cognizant of language in correspondence from injured parties that could be considered to be a valid settlement offer and to diligently calendar response dates and timely respond to such offers.
[1] First Acceptance Insurance Co. of Georgia Inc. v. Hughes, Case No. S18G0517, in the Georgia Supreme Court.