Subrogation recovery did not violate the made-whole-rule and was not in bad faith per Wisconsin Sup. Ct.
It is highly unusual to find an insurance bad faith case which stems from an insurance company's subrogation recovery. On July 6th, Wisconsin's highest court had such a case, reversing the appellate court and holding that Dairyland Insurance Company's subrogation recovery did not support a breach of contract action and its conduct was not in bad faith.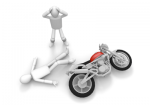 Dairyland paid its insured Dennis Dufour his uninsured bodily injury policy limit of $100,000 and $15,598 for 100% of his property loss after he was injured in a motorcycle accident caused by an insured of American Standard. Dairyland then pursued American Standard for subrogation in connection with its $15,598.86 property damage payment. As a result of the subrogation action, American Standard paid $100,000 to Dufour which was the tortfeasor's bodily injury limit, and also paid $15,598.86 to Dairyland in response to its subrogation claim.
Addressing subrogation rights, Dufour's policy stated "after we have made payment under this policy and where allowed by law we have the right to recover the payment from anyone who may be responsible.''
Dufour, who had not been fully compensated for his injuries, contended that he was entitled to the $15,598 paid by American Standard in response to Dairyland's subrogation claim. When Dairyland declined to turn over that recovery, Dufour sued Dairyland for breach of contract and bad faith. Dufour's argument that he was entitled to the recovery obtained by Dairyland stemmed from the "made-whole-rule" followed by Wisconsin courts, which provides that an insurer is not entitled to pursue subrogation until the insured recovers full compensation for his injuries, i.e. is made whole. The court considered a long line of case law discussing different factual and equitable considerations which may apply in reaching a decision on whether a subrogation action may be pursued under the made-whole-rule. In this case the Court held that the made-whole-rule did not preclude Dairyland from retaining the funds it recovered, because the court found that the equities favored the insurer:
Dairyland fully paid Dufour all that he bargained for under his policy.
Dufour had priority in settling with the tortfeasor's insurer, American Standard, and Dairyland waited until Dufour received full policy benefits from American Standard before obtaining its subrogation recovery.
If Dairyland had not pursued subrogation Dufour would not have had access to the $100,000 which he was paid by the tortfeasor's insurer, American Standard.
Of significance in connection with this decision, Dufour didn't have a claim against American Standard for property damage since Dairyland reimbursed Dufour for 100% of his property damage losses.  In addition, Dufour received all he was entitled to from both Dairyland and American Standard.
The Court next addressed Dufour's bad faith allegations.  Dufour argued that Dairyland had acted in bad faith by unreasonably failing to turn over the funds it received in subrogation.  Among other prerequisites, in order to prove bad faith in the first party context, Wisconsin law has a fundamental prerequisite in first party bad faith cases that there be some breach of contract.  The court concluded that there had been no breach of contract because Dairyland paid the insured every dollar to which Dufour was entitled under the policy, and that because there was no breach of contract, Dairyland did not act in bad faith with respect to Dufour's demands for funds Dairyland obtained as subrogation for the property damages it paid Dufour, i.e. there was no breach of contract so Dufour could not satisfy the fundamental prerequisite for a first-party bad faith claim against an insurer by an insured under Wisconsin law.
Insurance carriers, when pursuing subrogation recoveries, should remember that a bad faith cause of action may still be viable.  Therefore, it is the prudent carrier that checks the state's made-whole and bad faith laws prior to seeking any recovery.