Texas Federal Court Holds Rock Dust Discharged into Stream is Excluded "Pollutant," so Insurer Owed No Duty to Defend or Indemnify, and Committed No Bad Faith
On July 10, 2018, Judge John H. McBryde of the United States District Court for the Northern District of Texas, Fort Worth Division, held an insurer owed no coverage to a New Jersey rock quarry owner for the accidental pumping of crushed rock particles into a stream. The policy's pollution exclusion precluded coverage, regardless of whether the rocks were "wanted or useful." Great Am. Ins. Co. v. ACE Am. Ins. Co., No. 4:18-CV-114-A, 2018 WL 3370620, at *5 (N.D. Tex. July 10, 2018). Absent coverage or any injury independent of the claim for policy benefits, the court also rejected the insured's bad faith claim.
Background
Eastern Concrete Materials, Inc. operates a New Jersey rock quarry, where it crushes rock into small stones and fines. Rock fines are small particles of rocks generated in the crushing process, which are washed off with water and placed into settling ponds. Once settled, the fines are removed, dried out, and prepared for use as reclamation fill at the quarry or sold as fill material.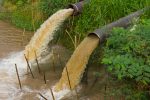 Anticipating substantial rainfall in July 2017, Eastern lowered the level of its settling ponds by pumping into an adjacent stream. But Eastern's quarry manager failed to stop the pumping before the rock fines were pumped into the settling ponds. This failure caused many rock fines to be pumped into the stream, and subsequent physical damage to the stream and stream beds. New Jersey government bureaus issued violation notices to Eastern, and required Eastern to remove the rock fines to ensure protection of fish habitats and prevent further migration of the fines.
Eastern notified its insurer, Great American Insurance Company, of the claims and demanded defense and indemnity. Great American then sought a declaratory judgment in Texas federal court. Eastern sued separately in New Jersey state court, arguing the pollution exclusion would be interpreted unfavorably to it in Texas law. But the New Jersey court agreed to stay that action pending the outcome of the Texas action. Great American moved for summary judgment, arguing its "absolute" pollution exclusion precluded coverage and, therefore, it owed no duty to defend or indemnify. Great American argued Eastern's counterclaims for breach of contract and bad faith should be dismissed for the same reason.
Analysis
The district court began by determining Texas had the most significant relationship with the substantive issue to be resolved—whether the pollution exclusion applied—because the policy was negotiated, brokered and issued in Texas. Further, Eastern had admitted that its parent, U.S. Concrete, Inc., that purchased the policy was "at home" in Texas. Lastly, the policy covered a group of risks scattered throughout the United States and, therefore, the court gave little weight to the location of the insured risk in determining choice of law.
Turning to the exclusionary language, the pollution exclusion precluded coverage for any liability "arising out of or in any way related to . . . discharge, dispersal, seepage, migration, release or escape of 'pollutants,' however caused." The policy defined "pollutants" as "any solid, liquid, gaseous, or thermal irritant or contaminant, including, but not limited to smoke, vapor, soot, fumes, acids, alkalis, chemicals and waste material." The term "[w]aste material" included "materials which are intended to be or have been recycled, reconditioned or reclaimed."
According to Judge McBryde, the exclusion was "clear, unambiguous, and absolute," and the term "pollution" is "not a term of art." Great Am., 2018 WL 3370620 at *5. Instead, "substances can constitute pollutants regardless of their ordinary usefulness." Id. (citing Nautilus Ins. Co. v. Country Oaks Apts. Ltd., 566 F.3d 452, 455 (5th Cir. 2009) (substance need not generally or usually act as irritant or contaminant to constitute a "pollutant")). Here, the rock fines were waste material generated in the rock crushing process, and that they were "wanted or useful" did not change their nature. The rock fines also became "irritants or contaminants" when they were discharged and dispersed where they did not belong. Eastern itself had argued the underlying remediation was necessary to protect the environment.
The district court found the exclusion was "fatal" to Eastern's duty to defend claims. Likewise, because the same reasons negating the duty to defend "likewise negate[d] any possibility that [Eastern] will ever have a duty to indemnify," Eastern's duty to indemnify claims failed as a matter of law. Lastly, Eastern argued it should be allowed to replead its bad faith claim under Texas law. But the district court held repleading would not "salvage" the claim. "Where an insurer has properly denied a claim that is in fact not covered, generally there is no claim for bad faith." Great Am., 2018 WL 3370620 at *6 (citing Republic Ins. Co. v. Stoker, 903 S.W.2d 338, 341 (Tex. 1995)). Because Eastern raised no genuine fact issue on any act by Great American "so extreme that it caused injury independent of the policy claim," see, e.g., Progressive Cty. Mut. Ins. Co. v. Boyd, 177 S.W.3d 919, 922 (Tex. 2005), the district court also granted summary judgment on Eastern's claim for breach of the duty of good faith and fair dealing.
Great American is significant because it offers a recent, but rare, example of a Texas court finding the same reasons negating the duty to defend likewise negated the duty to indemnify. See, e.g., Farmers Texas Cty. Mut. Ins. Co. v. Griffin, 955 S.W.2d 81, 84 (Tex. 1997). Since the Texas Supreme Court's holding in D-R Horton-Texas, Ltd. v. Markel International Insurance Company, Ltd., 300 S.W.3d 740, 745 (Tex. 2009), that an insurer may still owe a duty to indemnify even where it owes no duty to defend, Griffin has often been limited to its facts and construed narrowly by policyholders and courts. Great American serves as a well-reasoned opinion for insurers to cite to support arguments that indemnity issues may be decided on the same grounds, and at the same time, as defense issues.