Production of Insurance Company Claim Files In Bad Faith Litigation: Three Years After Cedell, Where Are We?
Bad faith litigation is complex and costly. In these types of cases, the discovery process often sets the initial tone of the lawsuit and the request for production of the insurer's claim file is automatic. Typically, the insurer's response is to produce a heavily redacted copy of its claim file, including a privilege log that cites the attorney-client privilege and work product doctrine as the bases for the redactions and withholdings. In response, the insured files a motion to compel, claiming that the attorney-client and work product privileges do not apply in bad faith litigation. The courts are left to decide if the insurer is required to produce a full and un-redacted copy of its claim files.
Under Federal Rule 26, "Parties may obtain discovery regarding any non-privileged matter that is relevant to any party's claim or defense and proportional to the needs of the case, considering the importance of the issues at stake in the action, the amount in controversy, the parties' relative access to relevant information, the parties' resources, the importance of the discovery in resolving the issues…"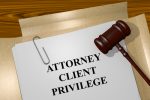 As you may remember, in Cedell v. Farmers Ins. Co. of Washington, 176 Wash.2d 686, 295 P.3d 239 (2013), the Washington Supreme Court held that "permit[ting] a blanket privilege in insurance bad faith claims because of the participation of lawyers hired or employed by insurers would unreasonably obstruct discovery of meritorious claims and conceal unwarranted practices." Id. at 245. Accordingly, the court held that there is a presumption of no attorney-client privilege in "first party insurance claims by insured's claiming bad faith in the handling and processing of claims, other than UIM claims." Emphasis added. Id. at 700. An insurer can overcome this "presumption of discoverability" if it shows that "its attorney was not engaged in the quasi-fiduciary tasks of investigating and evaluating or processing the claim, but instead in providing the insurer with counsel as to its own potential liability…." Id. at 296. Even with regard to these documents, however, the insured may pierce the privilege by showing a foundation in fact for the allegation of bad faith.
Washington is not alone in applying a waiver of attorney-client privilege in certain bad faith litigation circumstances. In Ohio, the filing of a bad faith case entitles a court to conduct an in camera review of the insurance company's attorney-client privileged communications. Boone v. Vanliner Insurance Co., 744 N.E.2d 154, 158 (Ohio 2001). In Hilborn v. Metropolitan Grp. Prop. Cas. Ins. Co., 2013 WL 60555215 (D. Idaho Nov. 15, 2013) the court ordered that the entire file of the insurer be provided to the adverse party, including attorney-client communications. The Idaho Supreme Court adopted and extended the Cedell holding to a third party liability dispute. Stewart Title Guar. Co. v. Credit Suisse, Cayman Islands Branch, 2013 WL 1385264 (D. Idaho Apr. 3, 2013).
A number of states, however, have held to the contrary, as expressed in Aetna Cas. & Sur. Co. v. Superior Court, 153 Cal.App.3d 467, 474 (Cal.App. 1984):  "[C]onsultations regarding a policy of insurance between an insurance company and its attorney prior to the time the insurance company has accepted its obligations under that policy are protected by the attorney-client privilege vis-à-vis the person insured by the policy. Such a rule makes perfect sense, as an insurance company should be free to seek legal advice in cases where coverage is unclear without fearing that the communications necessary to obtain that advice will later become available to an insured who is dissatisfied with a decision to deny coverage. A contrary rule would have a chilling effect on an insurance company's decision to seek legal advice regarding close coverage questions, and would disserve the primary purpose of the attorney-client privilege – to facilitate the uninhibited flow of information between a lawyer and client so as to lead to an accurate ascertainment and enforcement of rights." (Emphasis in the original).
In holding that the documents need not be produced, the Aetna court rejected the three grounds on which the insured argued that the attorney client privilege is unavailable: (1) that the insured and the insurer are the "joint clients" of coverage counsel, (2) that the fact that the attorney has provided guidance implicitly invokes the defense of "advice of counsel" and therefore places that advice at issue, and (3) that coverage counsel was acting as an investigator for the insurer and not as an attorney. Id. at 472-77.
Since Cedell, federal courts in Washington have cited the state court's holding but with mixed results. Not all federal courts agree that the in camera review mandate of Cedell applies in federal court. See, e.g., Lynch, Jason v. Safeco Ins. Co. of America, 2014 WL 12042523 (W.D. Wash. March 7, 2014); MKB Constructors v. Am. Zurich Ins. Co., No. C13–611JLR, 2014 U.S. Dist. LEXIS 78883, at *18–23, 2014 WL 2526901 (W.D.Wash. May 27, 2014); Indus. Sys. & Fabrication, Inc. v. W. Nat'l Assur. Co., No. 2:14–cv–46–RMP, 2014 U.S. Dist. LEXIS 154021, at *4, 2014 WL 5500381 (E.D.Wash. Oct. 30, 2014). Instead, a federal court exercises discretion in deciding whether in camera review is appropriate. MKB Constructors, 2014 U.S. Dist. LEXIS 78883 at *19–20, 2014 WL 2526901; Indus. Sys., 2014 U.S. Dist. LEXIS 154021, at *4, 2014 WL 5500381.
As such, the battle to protect attorney-client privilege in bad faith litigation wages on. In order to protect its privileged communications with counsel, insurers may want to use in-house claims handlers, field adjusters and independent adjusters rather than attorneys to perform factual investigations. This may not be practical in all situations, but it could limit the inclination of some courts to use the factual investigation as a waiver of the attorney client privilege for all reporting by counsel to the insurer. The insurer may also want to consider creating separate files for coverage advice and for factual investigation, at least in Washington state since it is suggested by Cedell.